NOTICE: Public memorial service for JOHNNY CASH moved to NOVEMBER 10th.
The House of Cash is empty this morning a lot of people will say. But I challenge that assumption. The House of Cash is full of memories on record, CD, film, video and the written word. A former appliance salesman, Cash made an imprint on music early in his life while at Sun Records in Memphis and even at the end, still winning awards for his work like this video called "Hurt." To learn about the story behind the video and read an overview, including a video, of the Man in Black from MSNBC.

Johnny Cash died four months after his beloved wife. Both very religious, I am sure they are together looking down with pride. Johnny and June will have an influence on the Entertainment business for a long time to come.
Listen to Johnny and June singing "If I Were a Carpenter," together.




So long to Johnny and June - together again.
Jerry Pippin
9-12-03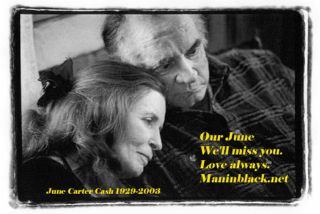 It doesn't seem like it but it was twenty five years ago. I walked on stage at the Muskogee Civic Center and did a few minutes of comedy and then introduced Johnny and June Carter Cash to a packed house. This was the only time I had a chance to observe Johnny and June in person, back stage. Johnny had a severe back problem and was in pain the entire night. Even back then his face was worn and his body showed the years of drug abuse even though he had licked that problem by then. June was there always making sure that Johnny had everything he needed, ice water, encouragement and you could tell she was dedicated to this man.
June Carter Cash was perky and full of life. If you had asked me then who would die first, I would have bet a fortune that Johnny would go years before June. He was so worn and she was so fresh. Who would have guessed that this May 15th afternoon she would die before him. My only other brush with June Carter Cash was a few years earlier when I worked for a brief time at KWTO in Springfield, Mo. It was the home of the Ozark Jubilee and the Carter Family was legend there. Every story about June was the same, she was clean cut, a good lady, always following the Golden Rule.
Tonight I am thinking about Johnny and how he seemed to know that this lady had pulled his life out of the mud and the dope and pushed him into being a major superstar for decades. Now Johnny Cash is on his own again, let's all pray he can continue just as if June is still by his side. I guess if you ask him in a few months, he will say, "June is here, just as she always has been for me. "
From Jack Blanchard, featured artist on the Jerry Pippin Show:
JOHNNY AND JUNE

We have met most of the Country legends,
and have split shows with a lot of them,
but we never met Johnny Cash and June Carter Cash.
Yet, we have always felt that we know them.
I think millions of us have that feeling.

There is a certain rare something
special people have
that makes us feel that way.
Like friends.

These are people you pray for
even though you've never met them.

We saw them in live performance
at a convention in Nashville in the 1970's.
They made us laugh and cry.

Johnny is the most charismatic entertainer we've ever seen.

June, with her angelic aura,
made us just know
that if we met her
she would be nice to us.

These people would help you
if you asked.
That's the unspoken message we got in their presence.

Misty and I like to think we're a little like them.
Why not?
That's a good thing to be.

We are happiest when we're onstage
making an audience comfortable,
and emotionally involved.

We're still in love
after all these years.

We talk to each other more than the average couple...
mostly at the kitchen table.

Today we talked about our friends,
Johnny and June.

Jack Blanchard, Copyright 2003
http://www.johnnycash.com/: This is the official Johnny Cash web site with story about June Carter Cash. WSM - TV story: http://www.wsmv.com/Global/story.asp?S=1280537&nav=1TcRFqv2