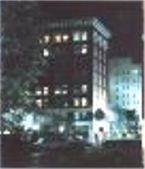 Technically, the radio station is still licensed to Muskogee; but the studios have been moved to Tulsa. To me this means it no longer is a Muskogee station. Even though I had anticipated the move for several weeks, when it actually happened, it was not easy for me. My broadcast life had been centered around KBIX. Even though my radio career had taken me to many different places, including Los Angeles, Las Vegas, Oklahoma City and Tulsa, my heart and mind were always here in my home town of Muskogee.
Here is how that last night on the air went.
The close for the old time radio feature was almost finished. The clock was pushing the midnight hour. My mind knew it was just about over, but my heart did not want to accept it. I had decided on this last night on the air to finish with three hours of old time radio shows for several reasons.
The program I had been doing for the past three years was designed to be unique; reflecting the history of the 20th Century while combining modern radio techniques and talk units that were current. Each night we broadcast an hour of old time radio dramas and comedy series as part of this eclectic menu which was broadcast around the world on the world wide web for most of the time that I had been doing this show. So it seemed fitting that I should close out this chapter of my radio history in this way.
I slowly and deliberately explained to the audience one last time that this was the end of the road for our show and for KBIX as a Muskogee station; then I played an old tune called "So Long For Awhile" by Eddie Howard. As the cart machine played this tune I thought about how fitting it was to close out with a non computer generated song, but one done the old fashioned way, a broadcast cart.
Through the haze that was now normal for my failed vision, I stared ahead at the console that controlled the broadcast, barely seeing the VU meters kissing the red, not wanting to look at the others in the studio. This was a moment that I must have to myself.
The Tune was over. I counted to three and then hit the computer. KBIX was on its last day of playing the hits of the 50s, 60s and 70s. By a little after five this afternoon, the switch to all sports programming would happen.
Sue Hanson, my studio producer and right hand person for these many broadcast was picking up all of the loose scripts and tapes, packing them away in our brief case silently. David Reynolds, a frequent contributor to our programming, had come over from Oklahoma City for the final broadcast was much like us, Zombies, He, Sue and myself, as if on some sort of automation program ourselves, said very little. We walked out of the studio and into the hallway of the 9th floor of the Bank of Oklahoma Building. We turned out the lights and shut the door. KBIX was now part of our own personal history.
Quietly, we walked to the elevator door. Inside my head, the memories were spinning. As the ching, chinging noise the elevator made as it came to pick us up, barking out with a ring every floor, I was fascinated by the 9th floor symbolism of it all.
While in Junior High school I used to hang out on the 9th floor of another building long gone, passed into only a memory. KBIX was on the 9th floor of the Barnes Building back in the mid- 50s when I (in front in photo) was given a job as an announcer at KBIX while still in high school. Hanging out over the months had paid off, they decided to give the kid a job working on Sunday afternoons, mostly riding network shows but getting a chance to do a couple of half hour disc jockey shows as well.
KBIX had been good to me. It paid my way to college at nearby Northeastern and whenever I needed a job after chasing dreams of acting, doing stand up comedy and working in major market radio and TV, KBIX was almost always there for me when I needed a job.
We walked into the elevator and Sue pressed the first floor button and the door slammed shut. Closing out my radio career at KBIX, I started here and I ended up here. As we started our journey to the street, my mind thought about this great little radio station.
Major stars such as Patti Page and Robert Reed had worked here, scores of radio talent that went on to major markets had started here. The ghosts of those who had once lived and worked at KBIX, now seemed all around me as we continued down in the elevator.
As we walked out of the lobby of the magnificent old building that had been the Severs Hotel for years; I thought about that warm summer afternoon before I was born when KBIX came to life.
April 30th. 1936 - a far different time than now. Deep in the heart of the financial depression when the average annual income was $1300 per person, Muskogee seemed to be a city of hope. The dust bowl of Oklahoma had forced countless "OKIES" to put everything they owned into their cars and head west on US 66, the mother road. Muskogee and Eastern Oklahoma seemed to escape the worst of it.
KBIX was a beacon for all to see with its 185 foot tower on top of the ten story Barnes Building next to its owner, the Muskogee Phoenix and Times-Democrat on Wall Street.
Like the cold wind that touched my face as we walked to the car, reality was here. This grand old lady of Broadcasting would never be the same again and neither would I.
KBIX was a part of my soul, the fabric of my professional coat of arms. Listening to this station as a child, shaped my ideas of showmanship and broadcast expertise. It seemed like I should be able to do more than just leave her in the dark on this cold night in January; but as my tears rolled down my cheek; I knew there was nothing I could do.
It's Biblical, isn't it? All things must come to and end. My radio shows are not over, I am still on the Internet, broadcasting programming around the world at www.jerrypippin.com. Somehow, I know, regardless of how much continued success I have in the future, we Muskogeeans have lost something this night. We are all a little less complete with the loss of the grand old lady of radio stations. KBIX, we will miss you.
Jerry Pippin


Messages to Jerry from Our Listeners
Send your own message to jerry@jerrypippin.com.
From Peter McNamara, Melbourne, Australia:

To all who treasure memories of good things.

My time with KBIX in Australia has been real short to say the least. In that two years that I have known KBIX and Jerry Pippin, Sue and Larry the world has been a brighter place. Through the shadows of Sept 11 and the Bali bombing plus the hundreds of other items that have occupied my time while I studied or worked Jerry and KBIX have stood for all that is good in life.

In Australia we do not talk much of our mates in the term we love them - but Jerry and KBIX were easy to love, as a man he is a man amongst men, as a radio station my life was reflected in the songs and stories that were transmitted over the web. Australia is not that much different to the USA, just slower and more laid back. Everything will happen here in time, for Australia is Gods Country and he did rest on the seventh day here.

We are all much sadder for the passing of KBIX from Muskogee but we are much richer people for having shared in the times when things were simpler, friendships mattered and love and honour were classmates.

I look forward to new horizons of web radio with Jerry at the helm with new adventures in Internet Broadcasting - and I know that the standards will still be there and I will slip into the radio like I would pull on an old comfortable coat and bask in the warmth. My glow will be for all to see.

Best wishes friend - lets do it again.
From Glen Pitts, Stockton CA:
Hi Jerry,
Nice journalism. I was just sitting here listening to, what is now, old KBIX shows. Fortunately, I recorded several hours of them, in addition to the shows we did. They have become a treasure to me. I can't help but be a little resentful toward the new owners. They took the finest little station around and trashed it. Heartless, thoughtless and insensitive. I feel like KBIX has been pimped out to sweaty, beer drinking ball buddies. For now, I have memories to listen to and enjoy the days of good.
Glen
From Dorothy Farmer (the Pawslady), Muskogee, OK:
Hi Jerry,
I am wiping tears from my eyes this is how I feel too. This should be put on the opinion page of the Muskogee Daily Phoenix it says it like it is and will touch many people's heart. See if they won't print it I believe they would---e-mail it to them as a letter to the editor. My heart goes out to you Thursday was so sad to me I've listened to KBIX all my life it seems. I wanted to cry and did shed some tears when I heard your voice for the last time on KBIX. Stay in touch I'll be listening.
Pawslady
From T. Suzanne Eller, Muskogee, OK:
Jerry, I am praying that as this door closes, a new door will open for you. With all that you have faced this past two years, I am touched to see that you have used it in a way that will impact teens through Megan's Story. Thank you for that. You are awesome!
Suzie Eller
From Sue Hanson, Muskogee, OK:
Hi everyone I would just like to thank all of you for the best year I have had that I can remember .The people I have met this year have turned out to be true friends the kind you don't meet just anywhere.
Further more when I started I didn't know anything about what radio is all about but I think I got the best crash course there is around from the best Jerry Pippin. I guess he was surprised that I did not want to go on the air but you can't beat the best around!
I never thought that I ever did enough ,there was always more I thought I could or should of done but Jerry never said a thing to me. The long hours in the production room till two or three in the morning all by myself putting things together for the show or the web site and being in the studio was great. Getting interviews for the show was fun and surprising when they would agreed to do it.
Stay Tuned For Further Adventures Of The Jerry Pippin Show !!!
Thank You
Sue Hanson
From Jo Hadley, Denver, CO:
Was this sent to the Muskogee daily newspaper? I think it is worthy in content to be shared with the community. I was darn near tears at the end of this personally written, poignant farewell letter. Thank you for sending it to me.
Jo
From Tony New, Manchester, England:
Jerry's piece on his sentiments when it came to closing down were eloquent and moving and I know the feeling so very well. As a newspaperman in a similar situation when company changes forced the closure of both my paper and its associated one, which I had helped launch with a set of keen and talented young people full of pioneering spirit, I fully understand the heavy-heartedness of closing up the shop for the last time.

Walking off into whatever future awaits up the road, you recall the great times; the struggles; the panics; the occasional spats and wrangles; the many laughs; the companionship of colleagues; the loyalty of your public and the occasions when you could take some modest pride in having done something of value for individuals or for the wider constituency you served.

In spite of the sadness, you realize that you were honored because your calling allowed you to work among and for so many people who were simply the salt of the earth and your life is the richer for having encountered them. The family feeling is inescapable.

Take heart. Whatever is just ahead will be interesting and just as enriching and rewarding as what has gone before. You carry with you a loyal following and that very same family feeling which stretches to odd quarters of the globe.
Let the curtain go up on the next act because the gang's all here!
Every success - Tony.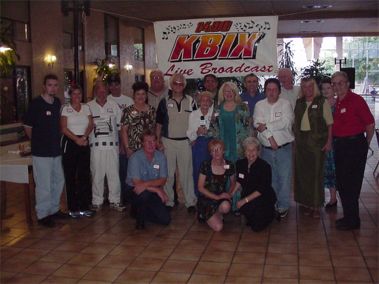 Bryant Ellis, Jerry Pippin, Brenda Lee and Scott Simon.
Bryant Ellis and George Chambers actually got into Muskogee Radio in 1989 when they put FM 100.3 on the air. They did not buy KBIX until just before the turn of the Century and put it across the hall from their FM station, KHJM-FM Interestingly enough I was the first voice on their FM station too. I was home after finishing my series of interview shows from Laughlin, Nevada on KROL which had dual transmitters, one in Laughlin and the other ran North Las Vegas. I had made a deal with John Lego at KVEG, a 50,000 watt new station using old call letters in Las Vegas. There were some technical hold ups for a few months, so I cam back home to Muskogee and worked a few months as morning man at the KHJ LA rip off sounding station. It was a great sound, but probably to much for Oklahoma listeners. Bryant and George eventually turned KHJM-FM into a Southern Gospel format. I am sure that was hard to swallow for Bryant who worshipped the KHJ Boss Jock concept. Bryant worked in San Francisco at KGO-TV producing ( production staff member of the Tennessee Ernie Ford and Gypsy Rose Lee Shows. I had a favorite California station too, it was the old KSFO with such greats as Jack Carney, Al ( Jazzbo ) Collins and one of my heroes in the business, Jim Lange.
Brenda Lee only worked at KBIX a few months as an on the air personality and sales person. She had an interesting personality that seemed to capture the hearts and minds of listeners. She left KBIX when it was clear Bryant was going to sell the stations and returned to her home town of Ada, Oklahoma where I understand she works at the classic rock station.
Scott Simon aka David Reynolds has been a contributor to our shows and web site for some time. He knows everything and a little more about the Beatles. He was in studio with us on our last night on the air at KBIX. He worked as afternoon man for a few months in the summer and fall of 2002 at KBIX.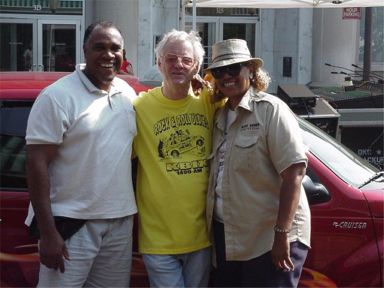 Oscar Ray, Jerry Pippin, and Shiron Ray. Oscar and Shiron own Darkwood Motion Pictures in Muskogee.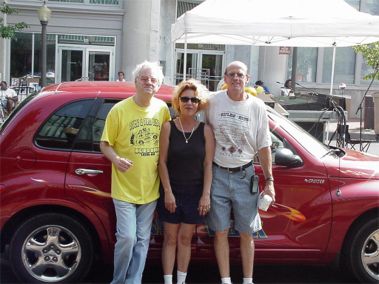 Jerry, Deb Miller, and Rick McFarland with the KBIX-mobile.
Glen Pitts and Jerry Pippin. No one was a bigger KBIX booster than Glen Pitts. He found the station on the internet and listened for six months before he contacted me about his record collection. When KBIX changed formats and moved to studios to Tulsa in Janury 2003, no one took it harder than Glen. He and his wife, Sheila flew in for the KBIX Reunion on Labor Day weekend 2002. He lives in Stockton and still does segments for our web site.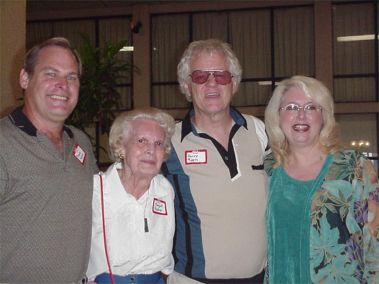 Ed, Margaret Proctor, Jerry Pippin and Sue Harris. Ed Richards worked at KBIX when it was country. He went by "Mr. Ed" and had quite a laugh. He is now doing Farm Reports for the Quinstar Radio Network out of Enid, Oklahoma. Margret Procter was on KBIX in the 70s. She did a talk show from 9:00 to 9:30 which was part Ann Landers, part local gossip and completely fun to listen every day. She and her husband, Charles, owned all of the theaters in Muskogee including The RITZ which was first class in everyway. In her 80s, she was after us to give her a radio show again as late as the reunion. Sue Harris worked at KBIX as a receptionist and soon into the 70s, she was running the place. She left for channel 8 in Tulsa, but returned for another stint at KBIX in the 80s. She is a "go-getter" in the finest sense of the term and now is President of the Muskogee Chamber of Commerce.
Diane & Leon Siefried. D. Leon Seifried first came into my life when I was manager and part owner of KMMM-FM in Muskogee in 1968. He has been a friend all of these years. His claim to fame was doing the morning show for seven or eight years into the 70s for KBIX. He proclaimed himself "Morning Mayor" without an election. CLICK HERE to listen to an "air- check" on KBIX in 1970 of Leon. We worked together as partners in an advertising agency for a while and he used to do stand up comedy bits with me in the 80s and early 90s.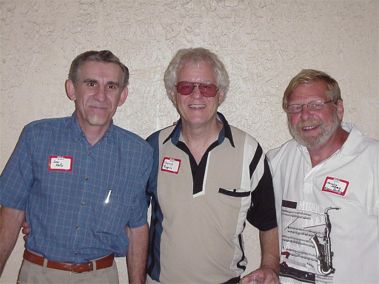 Lou, Jerry and Leon. Lew Kelly came to KBIX in the 80s. He has adopted Muskogee as his home town and is still a big booster of everything Muskogee. In fact, when it was definite that KBIX studios were moving to Tulsa; Lew quit the station and took his wares down the street to KTFX-FM, the only local station left. Lew is a hell of a sportscaster, especially when it comes to basketball and is a principal in the new "Outlaw Speedway" race track south of town. KBIX in the 60s had another disc jockey who was active in ownership of a race track. Gary Clarke who passed away in 2001 in California. Gary was doing sports for KABC-TV, channel 7, in LA. I am the one who advised him to go to California after his divorce in the late 60s from the step daughter of Tams Bixby III, owner of KBIX at the time. Gary has thanked me for that advice many times over the years even though he never forgave me for staying in Las Vegas and not moving back to California.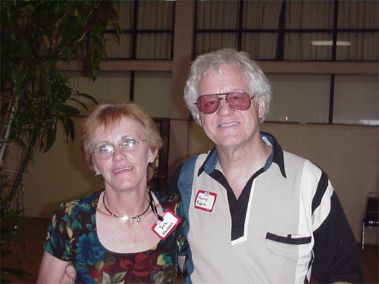 Sue Hanson and Jerry Pippin. When I started to lose my eye sight, Sue came by the station to volunteer to help me with the show. She has developed into a full time producer and right hand " man" for me. I could not do my radio shows without her. She has been my eyes for sometime now. She has turned into a very good "radio person" and I know that I have shown her a new way of life. God Bless you Sue.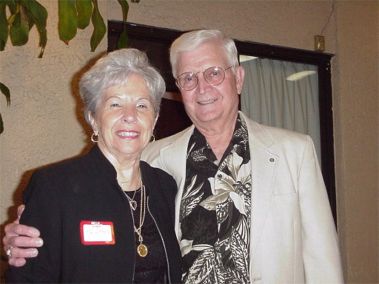 Bob & Toni Sheets. The real heros of radio are the account executives. Toni was one of the best. She made KBIX financially sound when she was on duty in the 70s and 80s. Quite a little woman and I am sure her husband, Bob, would agree.

Jerry Pippin & Judy Coburn aka "Melody Moore." Like all of us; or at least, most of us, we had a country streak in us. KBIX was country for several years in the late 70s and early 80s. Melody Moore was our "Dolly Parton." Great girl, great DJ.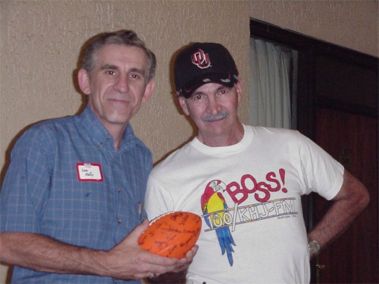 Lou Kelly and Larry Arnell. The first time I met Larry he used to visit me at the radio station and hang out at the Pioneer Room at the old Severs Hotel where I did a nightly radio show. Larry became a legend in Muskogee radio in the 60s, 70s, 80s and 90s. He did one of those marthon stay awake broadcast for an ungodly amount of hours and was active in Muskogee Sports. Lou and Larry became very tight (er-well, probably occasionally) good friends and still are to this day.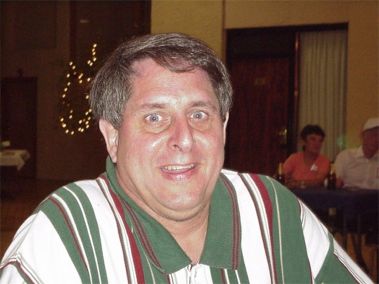 Nick Hampton. Nick is another sports guy who is very talented and has been part of the KBIX sports broadcast team for a couple of decades.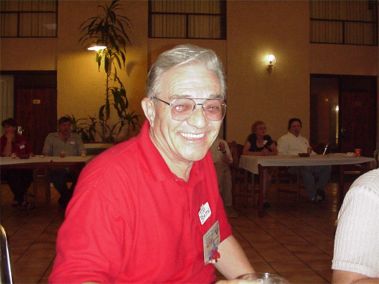 Jim Smith. The first time I met Jim was at the late great Don Cummins' recording studio in Tulsa. He had a gun, I think he was kidding, but he was a wild child. Jim did "Dialing for Dollars" on channel 8 and like the rest of us Muskogee boys, he did a lot of things in radio and TV, but always came home. He was a talk show host in the KBIX talk radio days of the 90s and is still active in Muskogee social circles.
Jerry at work in his KBIX Studio